* Deal will add an additional 41,000 Acres of Private Land to Company's Holdings*
VANCOUVER, BRITISH COLUMBIA-(Marketwire - 05/14/12) - Passport Potash Inc.
(TSX VENTURE:PPI - News)(OTCQX:PPRTF) is pleased to announce, further to its letter of intent announced on August 23, 2011, that it has entered into a purchase agreement (the "Agreement") to acquire the Fitzgerald Ranch consisting of approximately 41,000 acres of private land and potash rights. There are no royalties attached to this agreement. On closing of this acquisition Passport's holdings will include approximately 70,000 acres of contiguous, royalty free, private land. Combined with Passport's 52,000 acres of public land, their land package will comprise over 122,000 acres.

As noted in its previous press release this purchase is strategically important for a number of reasons, including:
• There is no royalty attached to the agreement;
• The property abuts the Twin Buttes Ranch and forms a contiguous block of over 70,000 acres of surface, water and minerals that will be owned in fee by Passport;
• The property provides crucial access to Passport's holdings to the south of highway 180 and the private lands held by the Hopi tribe; and
• This acquisition provides additional BNSF railway frontage along the north side of the property, as well as 13 miles of frontage on highway 180 on both the north and south sides of the highway.
The terms of the Agreement include :
• A purchase price of approximately US$360 per acre, for a total purchase price of US$15 million dollars.
• Down Payment and Deposit as follows:
o US$225,000 to be irrevocably released to Seller upon execution of the Agreement;
o An additional US$250,000 to be placed into escrow and irrevocably released to Seller on July 1, 2012.
• During the term of the Agreement Passport has the right to perform exploration activities on the property.
• Closing to take place on December 18, 2012.
• The final purchase is subject to TSX Venture Exchange approval.
Passport is in discussions with several strategic investors to fund the Fitzgerald Ranch acquisition which is to close later this year, and is considering several forms of financings including a possible joint venture, royalty interest and/or convertible debenture financing.
Passport President Joshua Bleak commented, "We are delighted to have come to terms on the purchase of the Fitzgerald Ranch. This purchase has become an important part of our strategy as it ties together our State and private sections. Our contiguous land positions, with intact surface and mineral rights, give us an advantage over other groups working in the Holbrook Basin."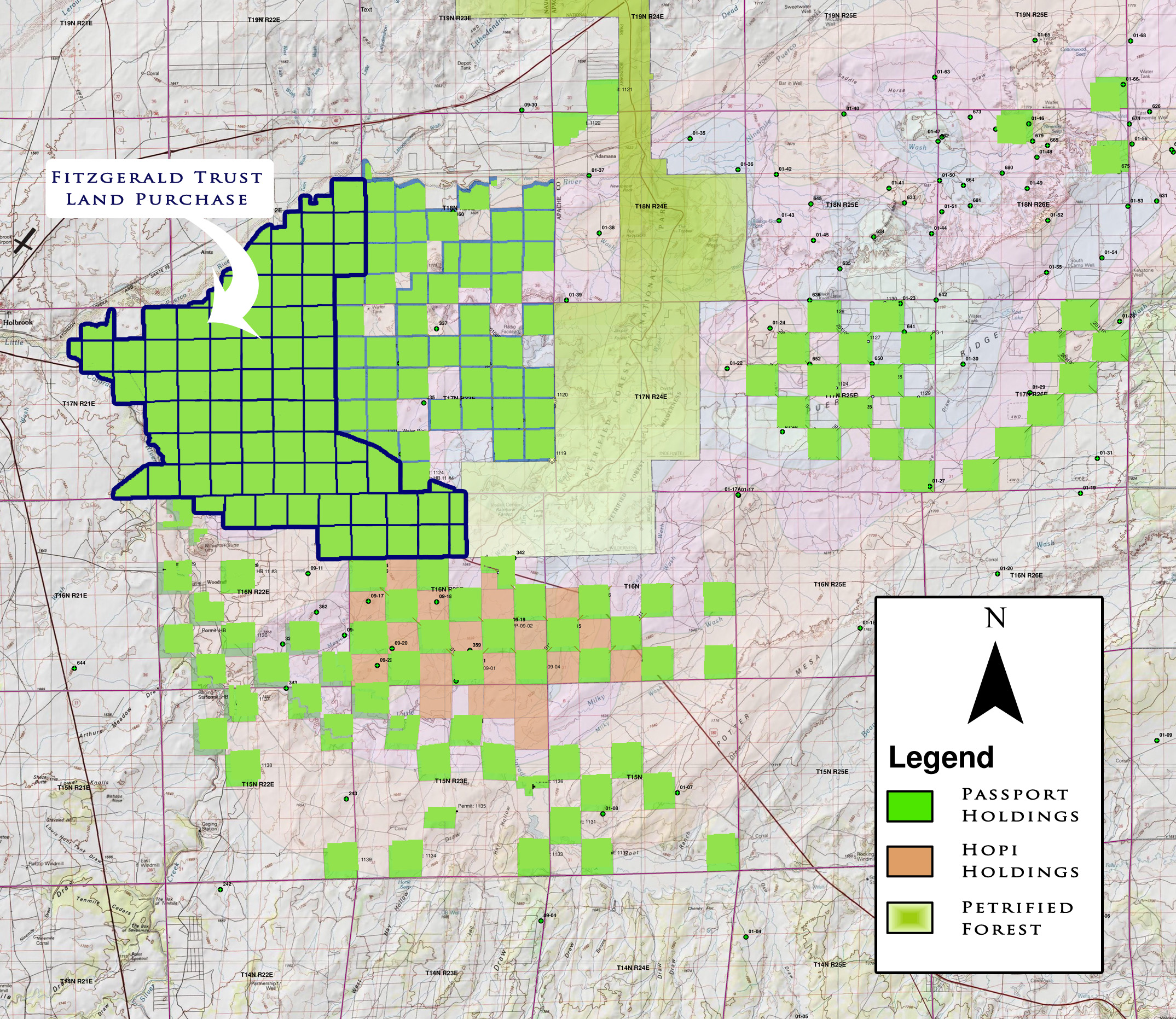 To view larger land holdings map click here
About the Holbrook Potash Project
Passport Potash Inc. is a TSX-listed resource company engaged in the exploration and development of advanced potash properties. Passport has acquired a strategic position in the Holbrook Basin with land holdings which on closing of the Fitzgerald Ranch purchase will encompass approximately 122,000 acres. For more information regarding the Holbrook Basin, please visit http://www.azgs.az.gov/arizona_geology/Summer%2008.pdf.
On behalf of the Board of Directors
PASSPORT POTASH INC.
Joshua Bleak, President
This news release includes certain statements that may be deemed "forward-looking statements". All statements in this release, other than statements of historical facts, including the likelihood of commercial mining and possible future financings are forward-looking statements. Although the Company believes the expectations expressed in such forward-looking statements are based on reasonable assumptions, such statements are not guarantees of future performance and actual results or developments may differ materially from those in the forward-looking statements. Factors that could cause actual results to differ materially from those in forward-looking statements include unsuccessful exploration results, changes in metals prices, changes in the availability of funding for mineral exploration, unanticipated changes in key management personnel and general economic conditions. Mining is an inherently risky business. Accordingly the actual events may differ materially from those projected in the forward-looking statements. For more information on the Company and the risks and challenges of its business, investors should review the Company's annual filings that are available at www.sedar.com.
Neither TSX Venture Exchange nor its Regulation Services Provider (as that term is defined in the policies of the TSX Venture Exchange) accepts responsibility for the adequacy or accuracy of this release.
Contact:
Passport Potash Inc.
Peter J. Kletas
Manager of Corporate Development
866-999-6251-Toll Free
[email protected]
Passport Potash Inc.
Clive Mostert
Corporate Communications
780-920-5044
[email protected]
www.passportpotash.com