mp3

Korelin Economics Report

Daily Insights – Sat 18 Feb, 2012
David Salisbury discusses Passport Potash
---
Passport Potash's President
Joshua Bleak on Bloomberg TV

Passport Potash Inc. (CVE:PPI,OTCQX:PPRTF) is an exploration and development company focused on advanced potash properties. The Company has acquired a strategic position in Arizona's Holbrook Basin with a large land holding. Historical data on the property has shown an estimated 2.5 billion tons of potash. In March 2011, Passport Potash began trading on the OTCQX under the symbol "PPRTF". Passport has recently undergone some changes to its management team. Joshua Bleak has been appointed President and CEO of the company.
---
Passport Potash, Inc's
Holbrook Basin site visit

Passport Potash, Inc's Holbrook Basin on-site visit. Attended by many local government officials as well as national and international news media writers and analyst. Passport Potash, Inc. outlined their plans to bring Arizona it's first ever potash mine and explained how they look to become the largest producer of potash in the US.
---
Passport Potash Quicky Advancing Holbrook Property

Al Korelin and team go in the field to visit Passport Potash's large Holbrook Basin potash project. Along the way we hear interviews with the company's management and geologists, and get a look at some of the drilling operations that Passport is doing to advance the project towards their goal of production.
---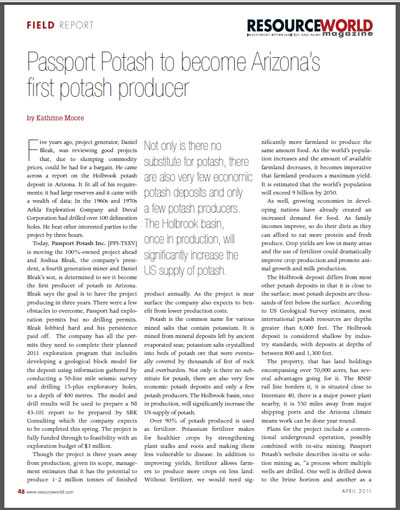 ---
---
x
---