VANCOUVER, BRITISH COLUMBIA — (Marketwire) — 08/02/12 — Passport Potash, Inc. ("Passport" or the "Company") (TSX VENTURE:PPI)(OTCQX:PPRTF) is pleased to announce that it has entered into an agreement with HNZ Potash, LLC ("HNZ") (jointly the "Parties") to jointly explore and potentially develop twenty-one (21) permitted parcels in which Passport holds Arizona State Land Department exploration permits and which are located on the southernmost area of its landholdings (the "Permit Property"). The Permit Property is within HNZ's private property and has not been previously explored by Passport. Under the terms of the Joint Exploration Agreement (the "Agreement") HNZ has agreed to pay Passport 50% of certain costs previously incurred by Passport with respect to the Permit Property, and Passport will assign a 50% interest in the Permit Property to HNZ.
The purposes of the Agreement are to conduct exploration and to evaluate the potential for development and mining of the Permit Property. If justified by the exploration activities, the Parties upon mutual agreement will form an entity to seek a mining lease to jointly engage in development and mining of the Permit Property. During the currency of the Agreement the Parties will equally share the costs for maintaining the Permit Property in good standing with the Land Department. The Parties may, either alone or jointly, conduct exploration of any or all of the Permit Property pursuant to one or more Plans of Exploration.
Other provisions in the Agreement include the following:
—  The Parties will provide to each other existing exploration data from their Holbrook Basin potash exploration activities. The data provided by each Party may be used by the other Party to update their existing or future resource reports or any other future reports.
—  The Parties will provide each other vehicular access across existing paved and unpaved roads on property controlled by the Party.
—  The Parties have established an Area of Mutual Interest and have agreed to jointly pursue opportunities within this Area.
"We look forward to the opportunity to jointly explore these properties with HNZ Potash," commented Joshua Bleak, Passport's President and CEO. "We anticipate a long and productive relationship with HNZ and see this as a positive step for both companies and the development of potash resources in the Holbrook Basin."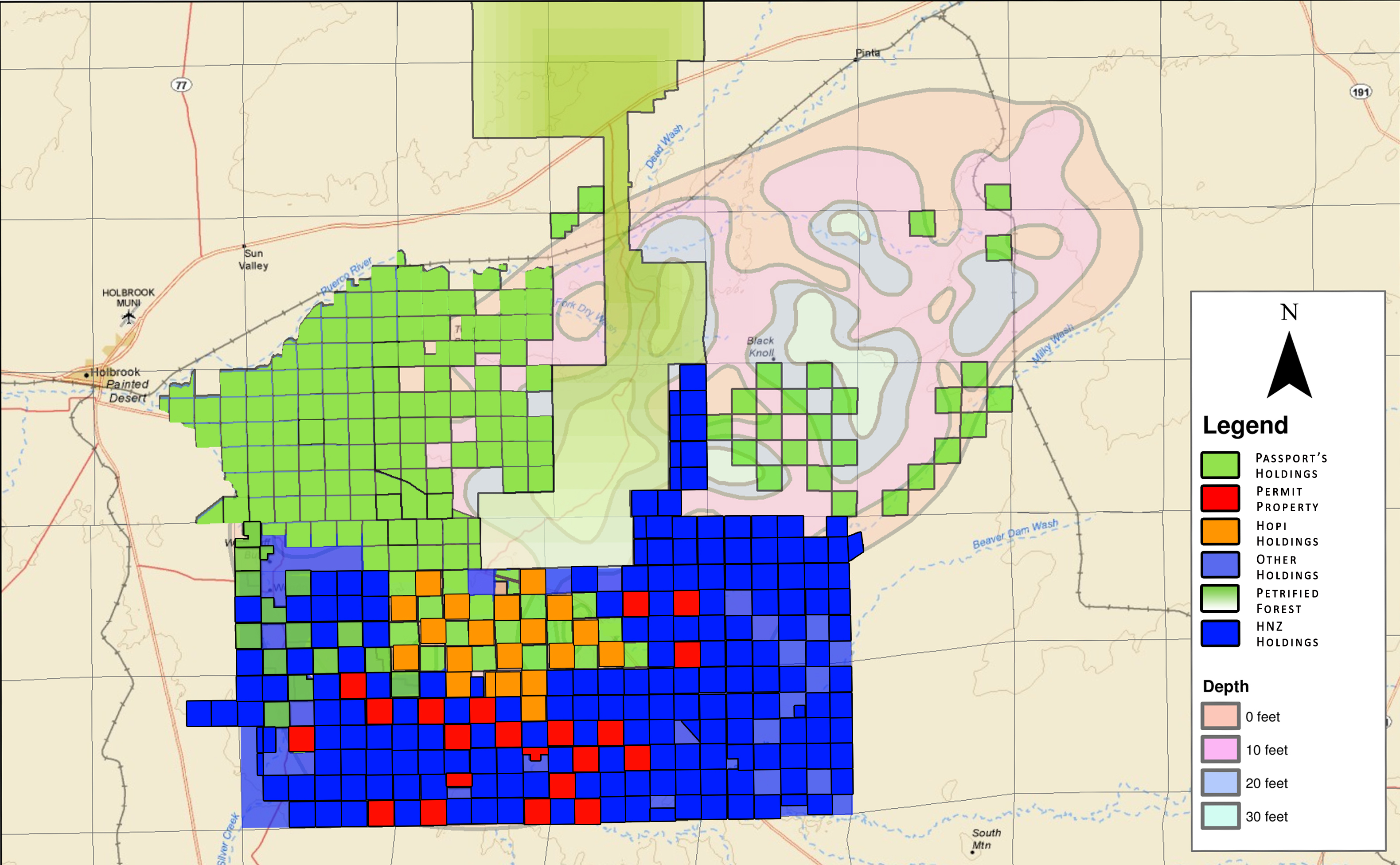 To view a map of the companies' holdings as well as the JV sections, click here: http://passportpotash.com/pdf/property.jpg.
About Passport Potash, Inc.
Passport Potash Inc. is a publicly traded corporation engaged in the exploration and development of advanced potash properties with its major focus on a previously explored potash property in Arizona. Passport has acquired a strategic position in the Holbrook Basin with land holdings encompassing over 121,000 acres. For more information regarding the Holbrook Basin, please visit http://www.azgs.az.gov/arizona_geology/Summer%2008.pdf.
About HNZ Potash, LLC
HNZ Potash, LLC is an affiliate of Hunt Consolidated, Inc., which is a part of the Hunt family of companies directed by Ray L. Hunt.
On behalf of the Board of Directors of Passport Potash Inc.
Joshua Bleak, President
Forward-Looking Statement
This news release includes certain statements that may be deemed "forward-looking statements". Forward-looking information includes, but is not limited to: statements with respect to the effect and estimated timeline of the drilling and assay results on the Company; the estimation of mineral reserves and mineral resources; the timing and amount of estimated future exploration; costs of exploration; capital expenditures; success of exploration activities; permitting time lines and permitting ; government regulation of mining operations; potential future expansion of the PFNP; environmental risks; unanticipated reclamation expenses; and title disputes or claims. Generally, forward-looking information can be identified by the use of forward-looking terminology such as "plans", "expects" or "does not expect", "is expected", "budget", "scheduled", "estimates", "forecasts", "intends", "anticipates" or "does not anticipate", or "believes", or variations of such words and phrases or statements that certain actions, events or results "may", "could", "would", "might" or "will be taken", "occur" or "be achieved". All statements in this release, other than statements of historical facts, including the likelihood of commercial mining and possible future financings are forward-looking statements. Although the Company believes the expectations expressed in such forward-looking statements are based on reasonable assumptions, such statements are not guarantees of future performance and actual results or developments may differ materially from those in the forward-looking statements. Factors that could cause actual results to differ materially from those in forward-looking statements include : unsuccessful exploration results; changes in metals prices; changes in the availability of funding for mineral exploration; unanticipated changes in key management personnel and general economic conditions. Mining is an inherently risky business. Accordingly the actual events may differ materially from those projected in the forward-looking statements. For more information on the Company and the risks and challenges of its business, investors should review the Company's annual filings that are available at www.sedar.com.
NEITHER TSX VENTURE EXCHANGE NOR ITS REGULATION SERVICES PROVIDER (AS THAT TERM IS DEFINED IN THE POLICIES OF THE TSX VENTURE EXCHANGE) ACCEPTS RESPONSIBILITY FOR THE ADEQUACY OR ACCURACY OF THIS RELEASE.
Contacts:
Passport Potash Inc.
Peter J. Kletas
Manager of Corporate Development
866-999-6251 Toll Free
[email protected]
Passport Potash Inc.
Clive Mostert
Corporate Communications
780-920-5044
[email protected]
www.passportpotash.com